When power quality and protection is vital for the continuity of your Sunshine Coast business, equipment and infrastructure, our Sunshine Coast UPS Uninterruptible Power Supply services and systems provide the perfect solution.
A UPS System in Sunshine Coast protects your equipment and infrastructure in the event of a power surge or power outage.
At Energized Electrical, UPS specialists, we provide a full range of power protection solutions to ensure it's always business as usual.
Our Sunshine Coast UPS Uninterruptible Power Supply Systems utilise only the best and latest innovative technology. We recommend, sell and install only the highest quality and most efficient UPS solutions. In addition, we suggest using Socomec, Eaton, Emerson and APC UPS systems.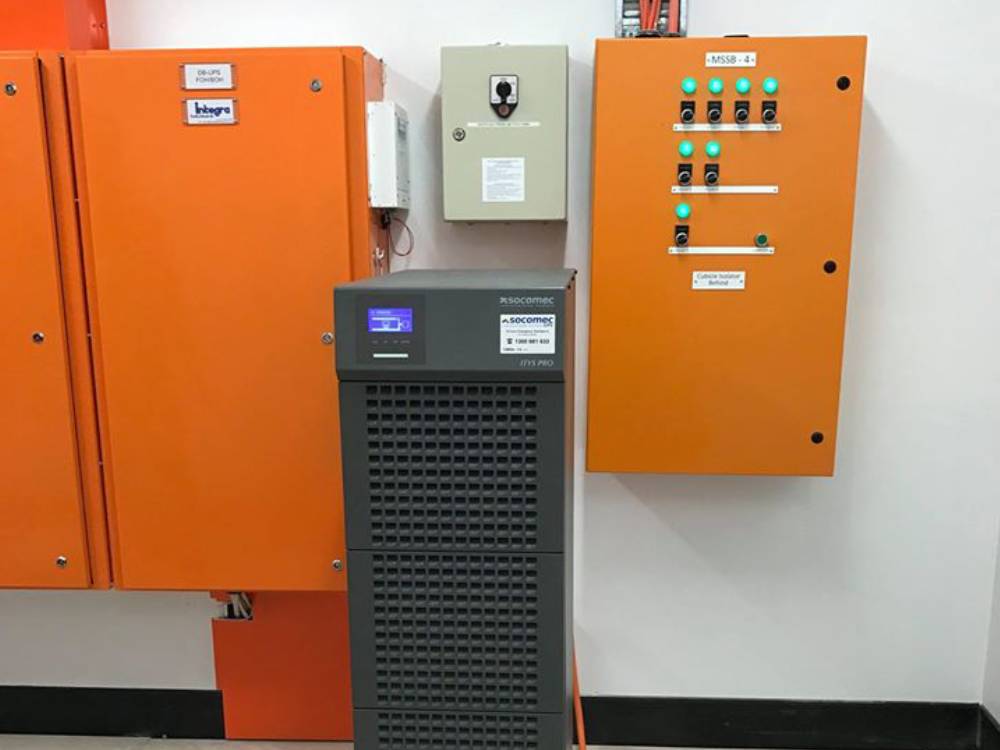 Our Sunshine Coast UPS Services include:
Customised UPS Uninterruptible Power Supply solutions
UPS system maintenance and installation
UPS Parts
Thermal imaging and reporting using FLIR camera and software
Surge protection
Harmonic filtering
Lightning protection systems
Power quality analysis and power factor correction
Energy auditing of electrical installations
Ultrasonic detection and analysis
Comprehensive preventative maintenance services
Earthing systems maintenance and testing
Battery system maintenance and testing
UPS Battery Replacement and Programmed Maintenance
We also sell and hire various Sunshine Coast UPS products and systems to support the continuity of your business, equipment and infrastructure.
Moreover, our preferred UPS solutions include Socomec, Eaton, Emerson, APC UPS systems.
Read more
Best UPS System Sunshine Coast
Are you currently searching for UPS System in Sunshine Coast? Struggling to find a quality provider? Do other
Queensland UPS providers
fail to deliver or fall short of your expectations? To have complete confidence in your project, you need to partner with a high-quality and reliable UPS provider like Energized Electrical. Our specialist UPS Uninterruptible Power Supply expertise lies in delivering safe, high-quality UPS systems and electrical work. Put simply, we're a quality local UPS provider you can rely on to do the job right, on time and on budget.
Socomec UPS Provider in Sunshine Coast
The quality of our work and the attention to detail we offer each client has built our reputation as a leading UPS Provider in Sunshine Coast.
Our service offerings allow us to deliver a quality UPS solution for your business, equipment and infrastructure. No matter the size and scope of the project, our experienced team will give you peace of mind.
Eaton UPS System in Sunshine Coast
We don't just deliver safe and sound UPS Uninterruptible Power Supply Systems. We ensure everything we provide and everything we do is of the highest quality. This means communicating with you in advance, showing up on time and cleaning up after ourselves.
We know your project is important to you and our expert team provide the special attention required.
Other services offered by Energized Electrical
Energized Electrical is always available to provide on-time efficient service when requested. Daniel and his team are all professional and competent electricians who deliver a quality product on time and are also available to help out in urgent and difficult circumstances. Energized Electrical deliver courteous and prompt service. Some of the team at Bunnings have also used Energized Electrical for work in their own homes as well and would happily recommend them to others. We would recommend Energized Electrical to any organisation looking for a reliable and competent electrical contractor
Bunnings
CONTACT US
We would be delighted to hear from you!
Kindly use the webform below should you have any questions or require feedback in regards to our services.